(January 31, 1910 – 2010)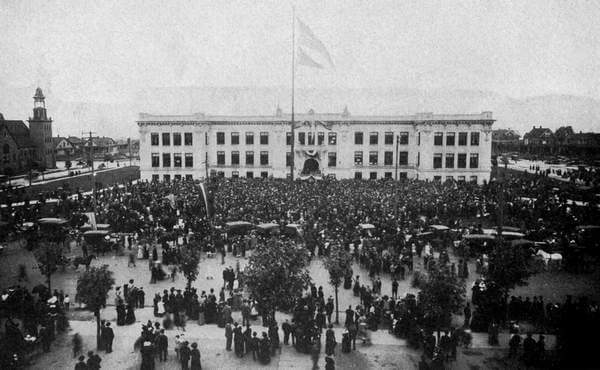 All Everett High School graduates, family, friends and community supporters:
On Saturday, January 30, 2010 an outstanding event took place at Everett High School to celebrate the centennial of this landmark institution that has been such an important part of our lives.
In addition to the Centennial Celebration Presentation by the current Principal, Dr. Catherine Matthews, outstanding EHS Student, Jorge Miguel Posades Euceda and Larry O'Donnell, there was also an extensive organization of material relevant to the past 10 decades of graduating classes on display throughout the main building.
The afternoon's event drew a huge, enthusiastic crowd of former graduates from the 1930's all the way down to the present graduates. Every where throughout the old Main Building and the Civic Auditorium here were many handshakes, smiles and conversations the told just how important Everett High School has been to so many members of our community – and beyond.
Thanks to Rick Eaks and Puget Sound Video, it has been possible to preserve the events of January 30, 2010 and place them on my website. Below you will find the hand out information and video of the Presentation, the layout of the event in the main building and video clips of the Decade Rooms, the EHS 100 Year Commemorative Brick Order Form and the EHS Blue and Gold Inc. 501c non-profit organization Handout. Also Included is a video of Mike Jordan, the EHS Graduate and Community Treasure mentioned in Larry O'Donnell's presentation.
Sanford Wright Jr. M.D.
EHS Class of 1960
The Everett Neurological Center
2320 Rucker Ave.
Everett, Wa. 98201
9. EHS Centennial – links to news articles below: