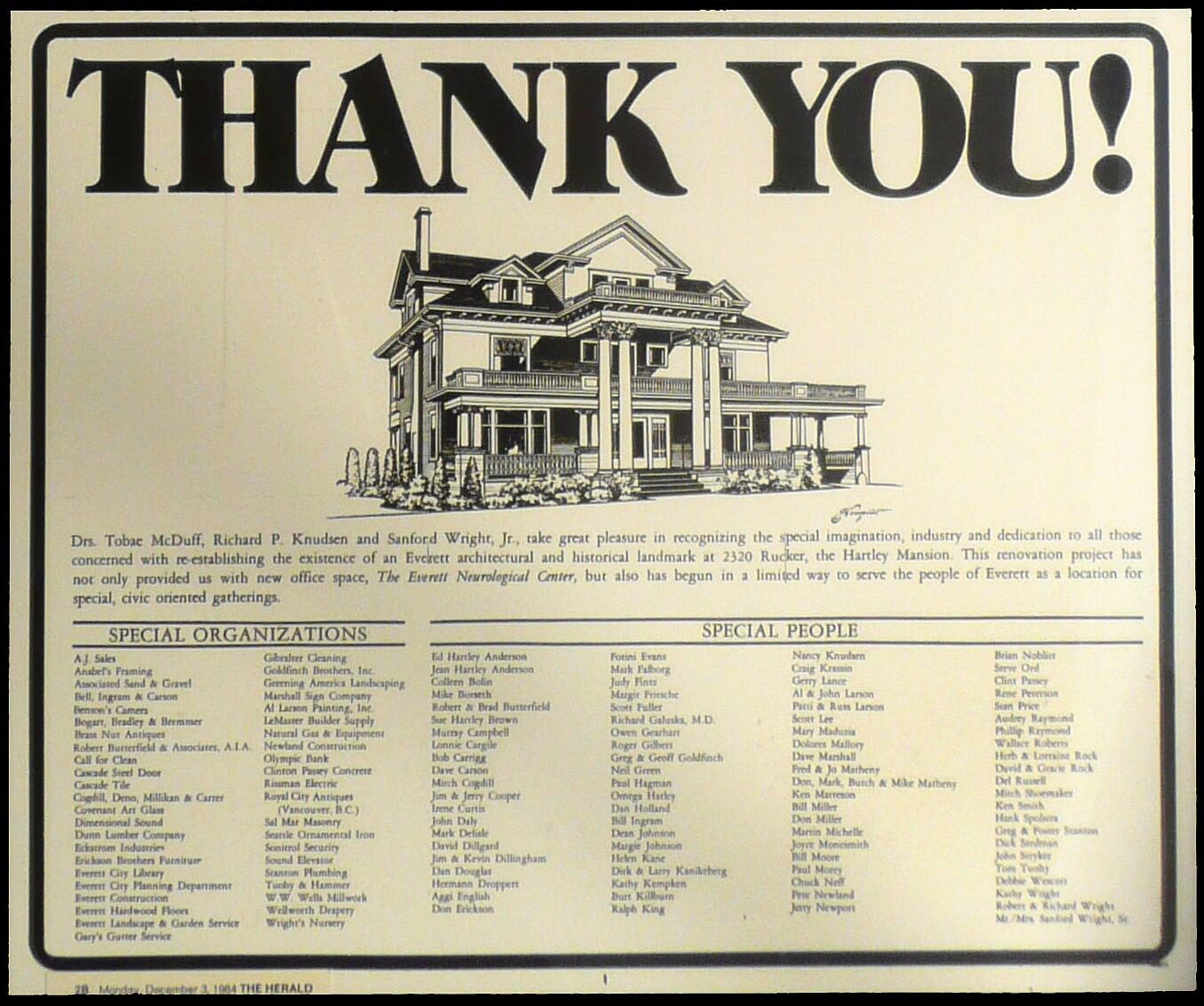 Thank You!
Drs. Tobae McDuff, Richard P. Knudsen, and Sanford Wright, Jr. take pleasure in recognizing the special imagination, industry, and dedication to all those concerned with reestablishing the existence of an Everett architectural and historical landmark at 2320 Rucker, the Hartley Mansion. This renovation project has not only provided us with new office space, The Everett Neurological Center, but also has begun in a limited way begun to serve people of Everett as a location for special, civic-oriented gatherings.
Special Organizations & Special People
A.J. Sales
Gibralter Cleaning
Ed Hartley Anderson
Fotini Evans
Nancy Knudsen
Brian Noblitt
Anabel's Framing
Goldfinch Brothers, Inc.
Jean Hartley Anderson
Mark Falborg
Craig Krassin
Steve Ord
Associated Sand & Gravel
Greening America Landscaping
Colleen Bolin
Judy Fintz
Gerry Lance
Clint Passey
Bell, Ingram & Carson
Marshall Sign Company
Mike Burseth
Margit Fritsche
Al & John Larson
Rene Peterson
Benson's Camera
Al Larson Painting, Inc.
Robert & Brad Butterfield
Scott Fuller
Patti & Russ Larson
Stan Price
Bogart, Bradley & Bremmer
LeMaster Builder Supply
Sue Hartley Brown
Richard Galuska, M.D.
Scott Lee
Audrey Raymond
Brass Nut Antiques
Natural Gas & Equipment
Murray Campbell
Owen Gearhart
Mary Maduzia
Phillip Raymond
Robert Butterfield & Associates, A.I.A.
Newland Construction
Lonnie Cargile
Robert Gilbert
Dolores Mallory
Wallace Roberts
Call for Clean
Olympic Bank
Bob Carigg
Greg & Geoff Goldfinch
Dave Marshall
Herb & Lorraine Rock
Cascade Steel Door
Clinton Passey Concrete
Dave Carson
Neil Green
Fred & Jo Matheny
David & Gracie Rock
Cascade Tile
Rissman Electric
Mitch Cogdill
Paul Hagman
Don, Mark, Butch & Mike Matheny
Del Russell
Cogdill, Deno, Millikan & Carrer
Royal City Antiques (Vancouver, B.C.)
Jim & Jerry Cooper
Omega Hatley
Ken Mattson
Mitch Shoemaker
Covenant Art Glass
Sal Mar Masonry
Irene Curtis
Dan Holland
Bill Miller
Ken Smith
Dimensional Sound
Seattle Ornamental Iron
John Daly
Bill Ingram
Don Miller
Hank Spolstra
Dunn Lumber Company
Sonitrol Security
Mark Delisle
Dean Johnson
Martin Michelle
Greg & Foster Stanton
Eckstrom Industries
Sound Elevator
David Dillgard
Margie Johnson
Joyce Monesmith
Dick Stedman
Erickson Brothers Furniture
Stanton Plumbing
Jim & Kevin Dillingham
Helen Kane
Bill Moore
John Stryker
Everett City Library
Tuohy & Hammer
Dan Douglas
Dirk & Larry Kanikeberg
Paul Morey
Tom Tuohy
Everett City Planning Department
W. W. Wells Millwork
Hermann Droppert
Kathy Kempken
Chuck Neff
Debbie Wescott
Everett Construction
Wellworth Drapery
Aggi English
Burt Killburn
Pete Newland
Kathy Wright
Everett Hardwood Floors
Wrights Nursery
Don Erickson
Ralph King
Jerry Newport
Robert & Richard Wright
Everett Landscape & Garden Service
Gary's Gutter Service
Mr. & Mrs. Sanford Wright, Sr.